Lithuania
This is the southernmost among the Baltic republics. Though relatively small, almost the size of Ireland, it has a unique character thanks to its ancient history and beautiful landscape covered with forests.
In short
Area: 65.200 km² -- Population: about 3,4 million -- Density: 52 per km² -- Government: republic -- Capital: Vilnius -- Language: Lithuanian -- Religion: the majority of the population is Catholic -- Currency: Lita -- Telephone code: +370 -- International car plate: LT -- Internet suffix: .lt -- Member of: the UNO since 1991, the EU since 2004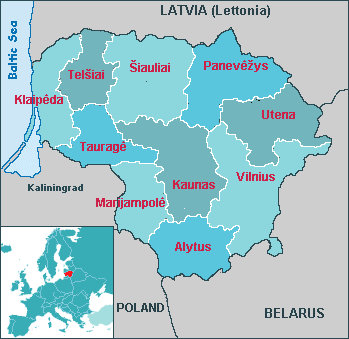 Administrative division
Lithuania consists of 10 counties: Alytus, Kaunas, Klaipêda, Marijampole, Panevêzys, Siauliai, Taurage, Telsiai, Utena, Vilnius.
The Territory
It is a wide, hilly plain, with the highest point only 292 mt, with rivers and lakes of glacial origin. The Baltic coastline is characterized by a long stretch of sandy dunes, the territory called Kurland, which creates a wide lagoon.
The climate
The climate is temperate, with cool summers and mild winters, thanks to the vicinity of the sea.
Population and Customs
Lithuanian folklore is rich and fascinating, with fairy tales, the folk songs (called "dainos"), and folk art in ceramics, woodwork, and textiles characterized by original and floral patterns. Another glorious, long tradition is music, with dances and singing festivals held in summer in villages and towns, and a national singing festival every 5 years.
History
In the Middle Ages Lithuania was the seat of a powerful Duchy, that in 1386 was joined to Poland when Grandduke Jogaila married Queen Jadwiga of Poland. In 1795 it was occupied by Russia; in 1917, after the Russian Revolution, Lithuania proclaimed its independence, but in 1940 it was annexed to the USSR and in 1941 was invaded by the Germans. In 1945 part of its territory was included in the Soviet Union district of Kaliningrad, so the coastline was reduced to only 80 km. The country obtained its independence again in 1991, and to guarantee its security established close ties with Western Europe, and is today also a member state of the Nato.
Cities and places of interest
The capital, Vilnius, is an important commercial and industrial center, and also a city of rich history and traditions. Other important centers are Kauna, the second largest city and a river port, and the Baltic harbor of Klaipeda.
UNESCO World Heritage Sites

Vilnius Historic Centre
The Curonian Spit
the Kernave Archeological Site
the Struve Geodetic Arc.
The Economy
Since Lithuania imported almost all its raw materials from the Soviet Union and exported back finished products, the separation from the former U.S.S.R. caused a serius economic crisis, and only recently the country has started to make progress.