Latvia
The territory is a wide plain with very low altitude, the highest areas in the Vidzeme region reaching only 311 mt, and rich of waters, with the longest river being the Dvina.
In short
Area: 64,589 km² -- Population: about 2.3 million -- Density: 36 per km² -- Government: Parliamentary Republic -- Capital: Riga -- Language: Latvian -- Religion: Evangelical - Lutheran -- Currency: Lats -- Telephone code: +371 -- International car plate: LV -- Internet suffix: .lv -- Member of: the UNO since 1991, the EU since 1 May 2004
---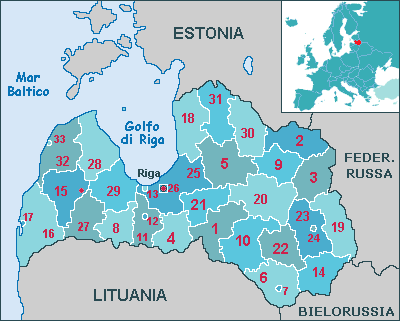 Administrative division
Latvia is divided into 26 districts and 7 cities (followed by an asterisk), with the numbers between parentheses corresponding to the map: Aizkraukle (1), Aluksne (2), Balvi (3), Bauska (4), Cesis (5), Daugavpils (6), Daugavpils* (7), Dobele (8), Gulbene (9), Jekabpils (10), Jelgava (11), Jelgava* (12), Jurmala* (13), Kraslava (14), Kuldiga (15), Liepaja (16), Liepaja* (17), Limbazi (18), Ludza (19), Madona (20), Ogre (21), Preili (22), Rezekne (23), Rezekne* (24), Riga (25), Riga* (26), Saldus (27), Talsi (28), Tukums (29), Valka (30), Valmiera (31), Ventspils (32)
The climate
The climate is temperate, thanks to the vicinity of the sea, cool in summer and mild in winter, with the coastline characterized by the large Gulf of Riga, an area of seaside tourism.
History
Inhabited since the second millennium B.C. by Nordic Tribes, Latvia was occupied in the 13th century A.D. by the religious order of the Knights of the Sword (Teutonic Order) founded in 1202 by the bishop of Riga. In the following centuries Latvia and Estonia were united with the name of Livonia. in 1583 Sweden defeated Livonia, which was dismembered; northern Latvia was then occupied by Sweden, while the south was included in Poland. During the 18th century then Russia conquered the Swedish section first and the Polish pait later. After the collapse of the Czar regime in 1917, Latvia was independent for 20 years, until 1939 when it was annexed to the Soviet Union, and was then occupied by the German army in 1941. As all the other Baltic Republics, Latvia obtained independence from the USSR in 1991.
Cities and places of interest
The capital is Riga, situated near the mouth of the Dvina River, the most populous city with over 1 million inhabitants including the Metropolitan Area. The city was founded in 1201 by the Teutonic Knights and was one of the members of the Anseatic League. Nowadays it has a beautiful medieval center, with great examples of Gothic Architecture, an important industrial and fishing port, and is the seat of the University of Latvia and of the Academy of Sciences.
UNESCO World Heritage Sites

Historic Centre of Riga; Struve Geodetic Arc, shared with Belarus, Estonia, Finland, Lithuania, Moldova, Norway, Sweden, the Russian Federation and Ukraine.
The Economy
Latvia is the most industrialized of the Baltic States, and has close economic ties with Russia. The main industries are the metallurgic, chemical and mechanic industry. Also timber is a great resource, thanks to the wide forests of the country.