Estonia
Situated on the Baltic Sea, surrounded to the north by the Gulf of Finland and to the south by Latvia, it is almost flat everywhere, with plains of glacial origin, with the highest point being Mount Munamagi, and to the east the large Peipus Lake, which also marks the border with Russia. The coastline is indented and rich of natural harbors to the west, while nearer to Finland it is characterized by high cliffs called "glints"; 9% of its territory consists of islands.
---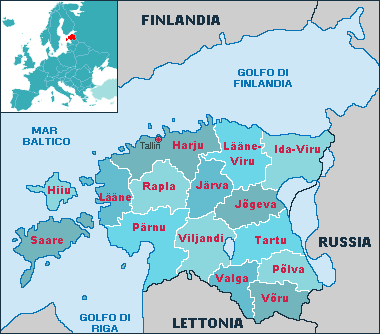 Administrative division
Estonia consists of 15 counties, called "maakond": Harju (where the capital Tallin is situated), Hiiu, Ida-Viru, Järva, Jõgeva, Lääne, Lääne-Viru, Pärnu, Põlva, Rapla, Saare, Tartu, Valga, Viljandi and Võru
In short
Area: 4522 km² -- Population: about 1,300,000 million -- Density: 29 per km² -- Government: Parliamentary democracy -- Capital: Tallinn -- Language: Estonian -- Religion: The majority of the population is evangelical or christian orthodox. -- Currency: Estonian kroon -- Telephone code: +372 -- International car plate: EST -- Internet suffix: .ee -- Member of: the UNO since 1991, the EU since 01 May 2004
The climate
Thanks to the the Baltic Sea that borders the country to the north and west, temperatures are moderate, with cool summers and mild winters, and very abundant rainfall.
Cities and places of interest
The capital is Tallinn, other large towns are Tartu, Narva, Kohtla-Järve, Pärnu.
How to arrive
The airport of Tallinn, about 4 km from the city center, is connected to various European capitals.
UNESCO World Heritage Sites

Historical center of Tallinn
The Economy
The economy was closely connected to the USSR, so at first a crisis followed the independence obtained in 1991, but the country soon recovered. The main resources are agriculture with cereals, potatoes and vegetables, a flourishing timber industry, and remakable mining resources, as petroleum, methane, and peat.