Sri Lanka
The island is situated opposite the southern point of the Indian peninsula, between the Gulf of Mannar and the Bay of bengal, and was known in the past under different names - Taprobane by the Greeks, Serendib by the Arabs, Ceilão by the Portuguese that first landed here in 1505, and finally as Ceylon by the British, under whose rule the country remained until 1948. The name of Sri-Lanka has been in official use only since 1972.
In short
Area: 67,610 km² -- Population: about 20 million inhabitants -- Density: 310 inhabitants /sq km -- Government: democratic socialist republic -- Capital: Sri Jayawardenapura-Kotte (legislative), COlombo (administrative) -- Language: Sinhala, Tamil, English -- Religion: about 70% Buddhism -- Currency: Sri Lankan rupee (LKR) -- Phone Area Code: +94 -- Internet suffix: .lk -- Member of: UNO
---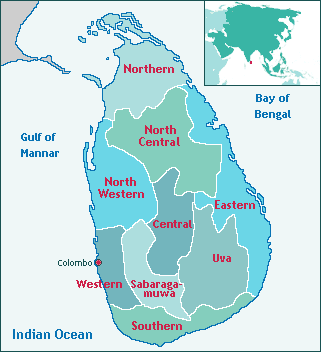 Administrative division
Sri Lanka is divided into nine provinces, furtherly subdivided into districts. Provinces: Central Province with capital Kandy, Eastern Province with capital Trincomalee, North Central Province with capital Anuradhapura, North Western Province with capital Kurunegala, Northern Province with capital Jaffna, Sabaragamuwa Province with capital Ratnapura, Southern Province with capital Galle, Uva Province with capital Badulla, Western Province with capital Colombo.
The Population
For centuries all the ships directed from the west to China, Japan or Australia used to stop at Ceylon - as the island was called until not long ago. The native Cingalese were described in innumerable travel books, as great fishermen and farmers, but already skilful in offering their services to European passengers who landed in the island. It is impossible, for Westerners visiting today this island, not to be influenced the so many travelers' reports that described the native people with braided hair kept by a turtle comb, dressed in short red and blue checked skirts, the amulets they wore against snakes and sorcery.
The Territory
One of the most striking feature of the island is the shining light, which is softened only under the luxuriant vegetation. The temperature is always hot, with refreshing almost regular rains in the evenings. Another striking feature is the incredible colors of plants, flowers and animals: azure mimosa plants, huge butterflies with emerald and sapphire wings, the small red and green jungle birds, the traditional local houses with whitewashed walls and wooden roofs.
UNESCO World Heritage Sites

Cultural sites: Ancient City of Polonnaruwa, Ancient City of Sigiriya, Golden Temple of Dambulla, Old Town of Galle and its Fortifications, Sacred City of Anuradhapura, Sacred City of Kandy || Natural sites: Sinharaja Forest Reserve.